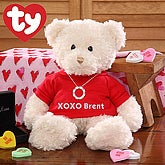 Today we are going to start our 2009 Valentine's Gift Guide. It is going to be a marathon! Each website will have a short individual review; it will take us a few days to write them all so please be patient. We have lots of wonderful gift ideas you can choose from! And the nice thing is that you can purchase them online!
As you know, the idea behind Valentine's Day is to express your love and to show that you care! You can do it with one gorgeous rose and some chocolate or with a fabulous diamond ring. It is up to you. But remember, you are buying the gift for the person you love not for yourself!
I want to say THANK YOU to our wonderful readers and contributors. We couldn't have done it without you!
We gathered the info in this long list (which is not complete yet!). Many more suggestions will be added in the next few days. The links below are randomly listed. Please read their Store Policies before purchasing online.
Aromatherapy, Bath and Body
For a good cause
Gorgeous Flowers:
Books
Personalized and customized gifts
Stylish and Practical
Gorgeous Jewelry
Don't miss:
Art
Gourmet and Desserts
Clothing and lingerie
Kids and Teens
Flowers and greeting cards
Especially for Men
Arts and Crafts
Updated daily from now (Jan. 13) till Valentine's Day. Come back soon to see what's new, read the individual posts on each of them and participate to our GiveAways!