Did you know that January is National Hobby Month – a relatively unknown time of the year when hobbyists celebrate their passions? When you're looking for an excuse to shop in January for a loved one and need an idea, use this fun
celebration as a starting point. Additionally, the month gives people a chance to explore new interests. Take the time to discover a new hobby or encourage the retiree in your life to redirect their energy towards a fresh leisure pursuit. A few suggestions include:
For Birdwatchers
Beyond a local nature guide or bird figurines, every birdwatcher needs a sturdy and reliable pair of binoculars. Budget shoppers will take pleasure in the Bushnell Powerview
8×21 Compact Folding Roof Prism Binocular – priced under $20. For the more adventurous, the Nikon 7430 Monarch 8x42mm All-Terrain Binoculars
(~$200) offer 100% waterproof and fog-resistant luxury.
For Avid Readers
An avid reader generally cozies up to a good book at any time of the day. Unfortunately, some readers struggle to find an adequate source of light during their nighttime indulgences. Suggested gifts for avid readers who enjoy reading at night include lamps with elongated flexible necks, personal magnifiers, and comfortable items, like the Homedics BRF-2L Foldable Massaging Back Rest with LED Light
.
For Fishermen
You can never have too many fishing gadgets when it comes to catching, cleaning or releasing the prized catch of the day. Surprise a loved one with the Trademark Fisherman's Outdoor Tools Collection
which contains two fishing knives, 6-inch half serrated/half smooth blade, 6-inch knife blade, nail/line cutters, and a convenient 8 in 1 fisherman's pliers.
For Golfers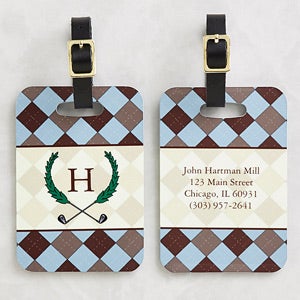 No more misplaced golf clubs. The Golf Pro© Personalized Bag Tag is a thoughtful way to separate the stylish golfer in your life from the rest of the bunch. Personalization Mall allows gift-givers to customize four lines on one side, such as name, cell phone number, address or whatever your heart desires. The other side bears the initial of the golfer – printed with an exclusive argyle design.
For Crafters
The world of arts and crafts includes a wide range of talented individuals that includes knitters, seamstresses, woodworkers, and jewelry makers. There is one thing they all have in common – the need to store their supplies. A highly functional gift for crafters is to provide a place to hoard their beads, needles, tools, and materials. Sometimes, a box or travel case will do, while others need more space, like the Craft / Sewing Machine Cabinet Storage Armoire Organizer Drop Leaf Table
.